To celebrate the Ethereum Shapella upgrade, Halo Wallet will launch an exclusive DAI airdrop with a bonus APY up to 10%. Users who hold ETH or liquid staking derivatives and complete a transaction with Halo Wallet during the event will receive additional DAI rewards.
Halo Wallet ensures the security of your digital assets with self-custody technology and continues to provide you with better staking products and services!
Event Duration: 2023-4-13 10:00 to 2023-4-27 10:00 (UTC)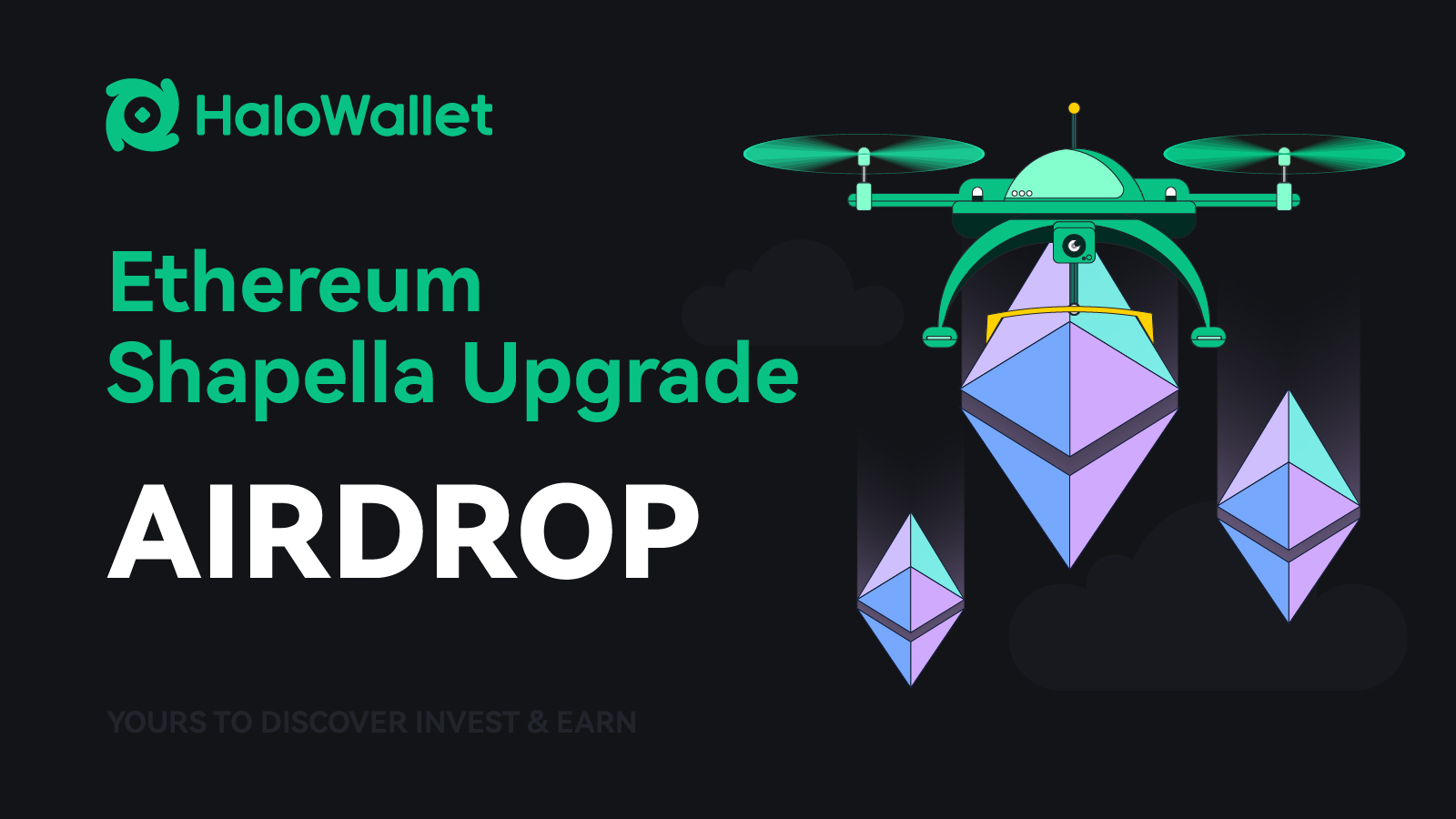 1. How to participate
During the event, all users that hold at least 0.01 ETH or equivalent liquid staking derivatives and complete a transaction (any amount) with the Halo Wallet app will receive extra DAI airdrops and earn daily on-chain rewards. If you meet the event requirements, Halo Wallet extra airdrops will be distributed to your wallet within 10 working days after the event ends.
The liquid staking derivatives are counted as follows:
| | |
| --- | --- |
| Name | LSD(Liquid Staking Derivatives) |
| Lido | stETH |
| Frax | sfrxETH |
| Stakewise | sETH2 |
| Rocket pool | rETH |
| Coinbase | cbETH |
Halo Wallet will take daily snapshots of users' ETH and LSD holdings from April 13, 2023 to April 27, 2023 (UTC). Rewards will be calculated based on the user's average ETH and LSD holdings for 14 consecutive days.

New users can directly import a wallet with ETH or LSD assets.

Users will receive DAI airdrops based on their average ETH and LSD holdings.

Users who want to get extra DAI rewards must complete at least one swap (any amount, any chain).
2. Airdrop rules
Event duration
ETH and LSD holdings
Bonus APY
Airdrop token
14 Days
0.01 - 1
3%
DAI
1 - 5
6%
≥5
10%
3. Reward calculation
The amount you'll receive in airdrops will be distributed according to the following formula:
👉Halo Wallet exclusive DAI airdrops = ( ETH and LSD holdings during the activity period x Bonus APY x ETH price) / 24
Your total rewards will be calculated according to the following formula:
👉Your total rewards = Halo Wallet extra airdrops + On-chain ETH2.0 Staking rewards
Notes:
ETH actual price is determined on the KuCoin exchange when the event ends.
The deposit cap for this event is 1000 ETH or equivalent LSDs. If the total deposit amount exceeds the cap, then the bonus airdrop will be made in the corresponding ratio.
Risk Disclaimer: Crypto is highly volatile and contains huge amounts of risk, please proceed at your own risk. Halo Wallet shall not be held accountable or provide compensation for any loss incurred.
Halo Wallet reserves all rights to the final interpretation of this event.
About Halo Wallet
Halo Wallet is a secure and easy-to-use crypto wallet that supports multi-chain aggregation and aims to provide Web3 users with a more efficient and deep insight into investment opportunities through Social web. With the leading security technology audited by Hacken, Halo Wallet is a self-custody wallet with users having full control of their assets. Let Web3 users discover the value of projects earlier, monitor their investment portfolios, and make smart decisions. That is where the Halo Wallet comes into play!
Join Us:
Twitter: https://twitter.com/HaloDotSocial
Telegram: https://t.me/halowalletsocial
Discord: https://discord.gg/958cKHaG2m
Medium: https://medium.com/@HaloDotSocial