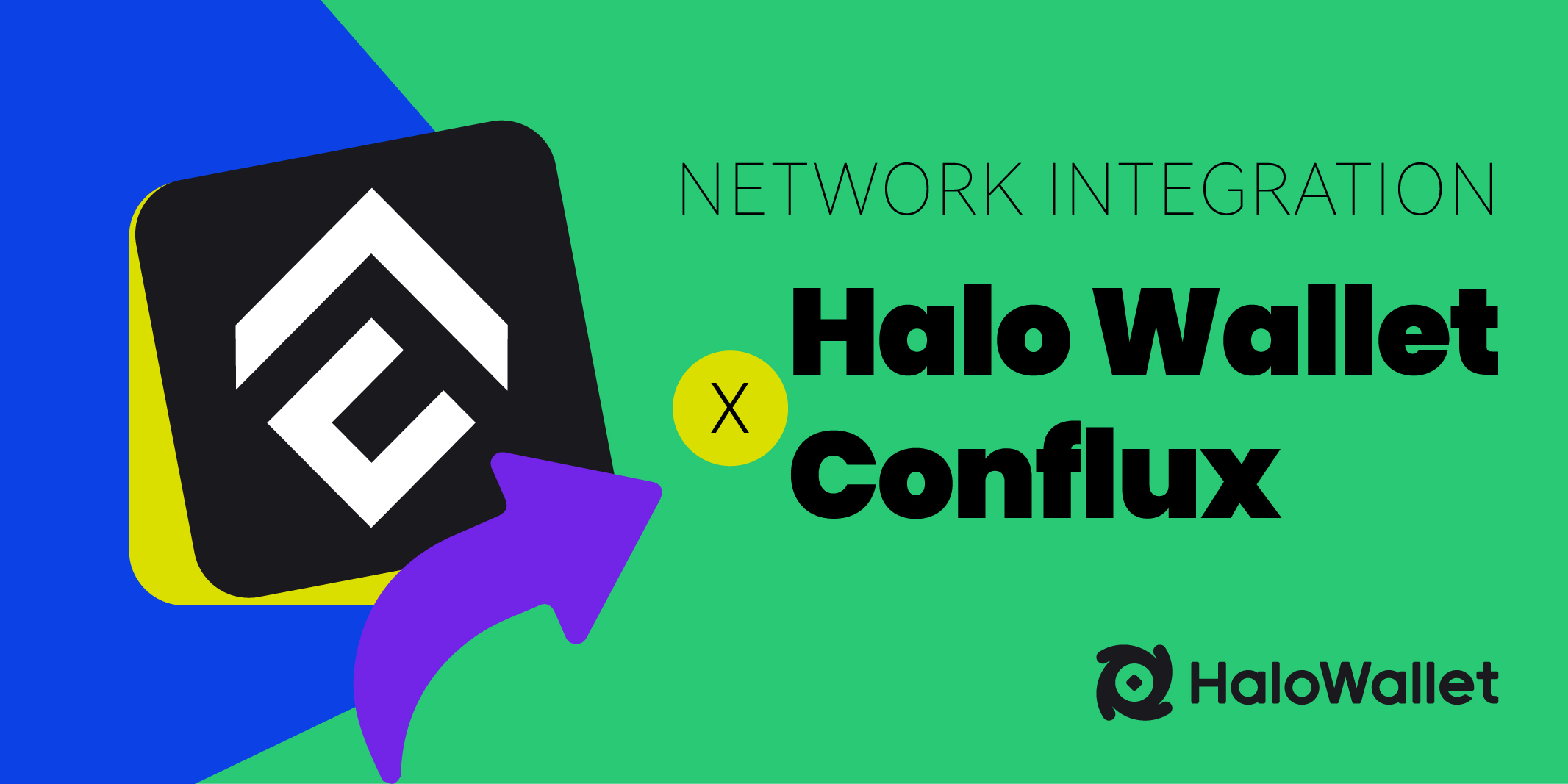 We are delighted to announce that Halo Wallet has reached an official integration with Conflux, which is a next-generation blockchain protocol designed to address the pressing challenges of scalability, security, and decentralization faced by the rapidly evolving world of decentralized finance (DeFi) and Web 3.0 applications.
Halo Wallet is a secure and easy-to-use Web3 wallet bringing together tokens, NFTs and dApps in one seamless, high-performance experience. Besides, with expansion to the SocialFi ecosystem, HaloWallet is committed to giving ordinary users the opportunity to break through the media noise and identify high-quality investment targets.
Launched in 2018, Conflux Network aims to provide a high-performance, permissionless platform that enables developers to build and deploy decentralized applications (dApps) with ease, while ensuring a seamless user experience for the global community. With a focus on fostering innovation and collaboration, Conflux has established strategic partnerships with various industry leaders to drive the adoption of blockchain technology across multiple sectors.
With the integration of Conflux, Halo Wallet gives users easy access to all Conflux native assets, enabling all users to send, receive and store CFX and CRC-20 tokens directly in the wallet. Halo Wallet has completed the full integration of the Conflux ecosystem on both mobile and PC, providing users with the chance to explore the promising dApps built on Conflux and track real-time assets in a unified manner from all devices.
Jeff Haul, CEO of Halo Wallet, points out, "By providing a scalable, secure, and user-friendly platform, Conflux aims to empower developers and users to unlock the full potential of blockchain technology. We are thrilled to work with Conflux to provide all our global users with easy access to the full power of Web3 on the network. The Halo Wallet and Conflux integration will definitely go a long way. We will collaborate to not only accelerate DeFi mass adoption but also to achieve our aim of introducing DeFi to more elements of our lives."
Through the integration of Conflux, Halo Wallet will serve as a strong and reliable infrastructure for the development of the Conflux ecosystem, providing users with a smooth experience in Web3 and DeFi fields. Stay tuned for more updates and developments as we continue to introduce more features and services that further enhance the user experience.
👉Please update your app to the latest version V2.1.0 to use the Conflux network. For new users, get Halo Wallet on your mobile and PC now!
About Halo Wallet
Halo Wallet is a secure and easy-to-use crypto wallet that supports multi-chain aggregation and aims to provide Web3 users with a more efficient and deep insight into investment opportunities through Social web. With the leading security technology audited by Hacken, Halo Wallet is a self-custody wallet with users having full control of their assets. Let Web3 users discover the value of projects earlier, monitor their investment portfolios, and make smart decisions. That is where the Halo Wallet comes into play!
About Conflux
Conflux is a permissionless Layer 1 blockchain connecting decentralized economies across borders and protocols. Recently migrated to hybrid PoW/PoS consensus, Conflux provides a fast, secure, and scalable blockchain environment with zero congestion, low fees, and improved network security.
As the only regulatory-compliant public blockchain in China, Conflux provides a unique advantage for projects building and expanding into Asia. In the region, Conflux has collaborated with global brands and government entities on blockchain and metaverse initiatives, including the city of Shanghai, McDonald's China, and Oreo.