Dear Halo Users,
We are pleased to announce that the Smart Haloer Hunter Plan is now live on the Halo Wallet! All users who have an updated version of the Halo Wallet with the newly launched socialfi-related functions are eligible to participate in this campaign for a chance to win a share of $350!
Since there are multiple Smart Money and influencers' wallet addresses, you can directly find investment transactions in the Halo Wallet app. Let's find the best investment together this month of May!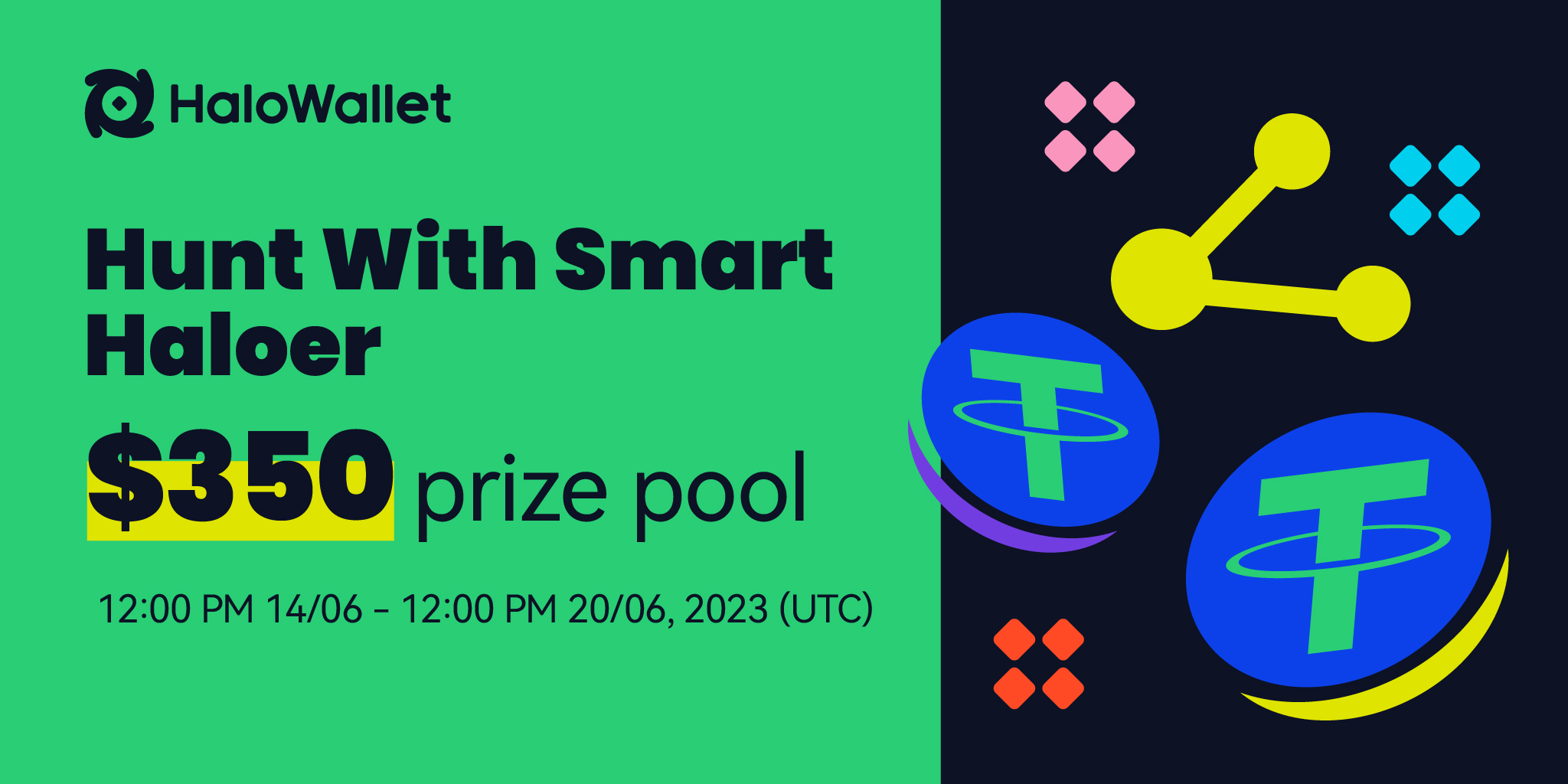 Event Duration: 12:00 PM 14th June ~ 12:00 PM 20th June, 2023 (UTC)
During the event period, users who share the in-app screenshot of the best investment transaction they could find in the Halo Wallet along with their insights of the investment on Twitter will get a chance to win rewards!
How to participate:
Step 1: Find the best investment transactions in the Halo Wallet app this month of June (This can be an investment in the wallet you are following or your own);
Step 2: Take a screenshot of the in-app transaction;
Step 3: Tweet the screenshot and your reason for picking that transaction with the hashtag #SmartHaloerinJune2023.
Feel free to share the tweet link on our Discord [Haohunt channel] to increase exposure!
Rules:
1.The top 10 users with the highest tweet exposure will receive a $20 - $50 reward based on their ranking! (*Tweet exposure refers to the number of engagements (likes, comments, and retweets) and reaches (views) your tweet has)
2.The screenshot must be taken in the Halo Wallet app;
3.The tweet must include the hashtag #SmartHaloerinJune2023;
4.All rewards will be distributed within 10 working days after the activity;
5.Halo Wallet reserves all rights to the final interpretation of the event.
About Halo Wallet
Halo Wallet is a secure and easy-to-use crypto wallet that supports multi-chain aggregation and aims to provide Web3 users with a more efficient and deep insight into investment opportunities through the Social web. With the leading security technology audited by Hacken, Halo Wallet is a self-custody wallet with users who have full control of their assets. Let Web3 users discover the value of projects earlier, monitor their investment portfolios, and make smart decisions. That is where the Halo Wallet comes into play!
Join Us:
Twitter: https://twitter.com/HaloDotSocial
Telegram: https://t.me/halowalletsocial
Discord: https://discord.gg/958cKHaG2m
Medium: https://medium.com/@HaloDotSocial