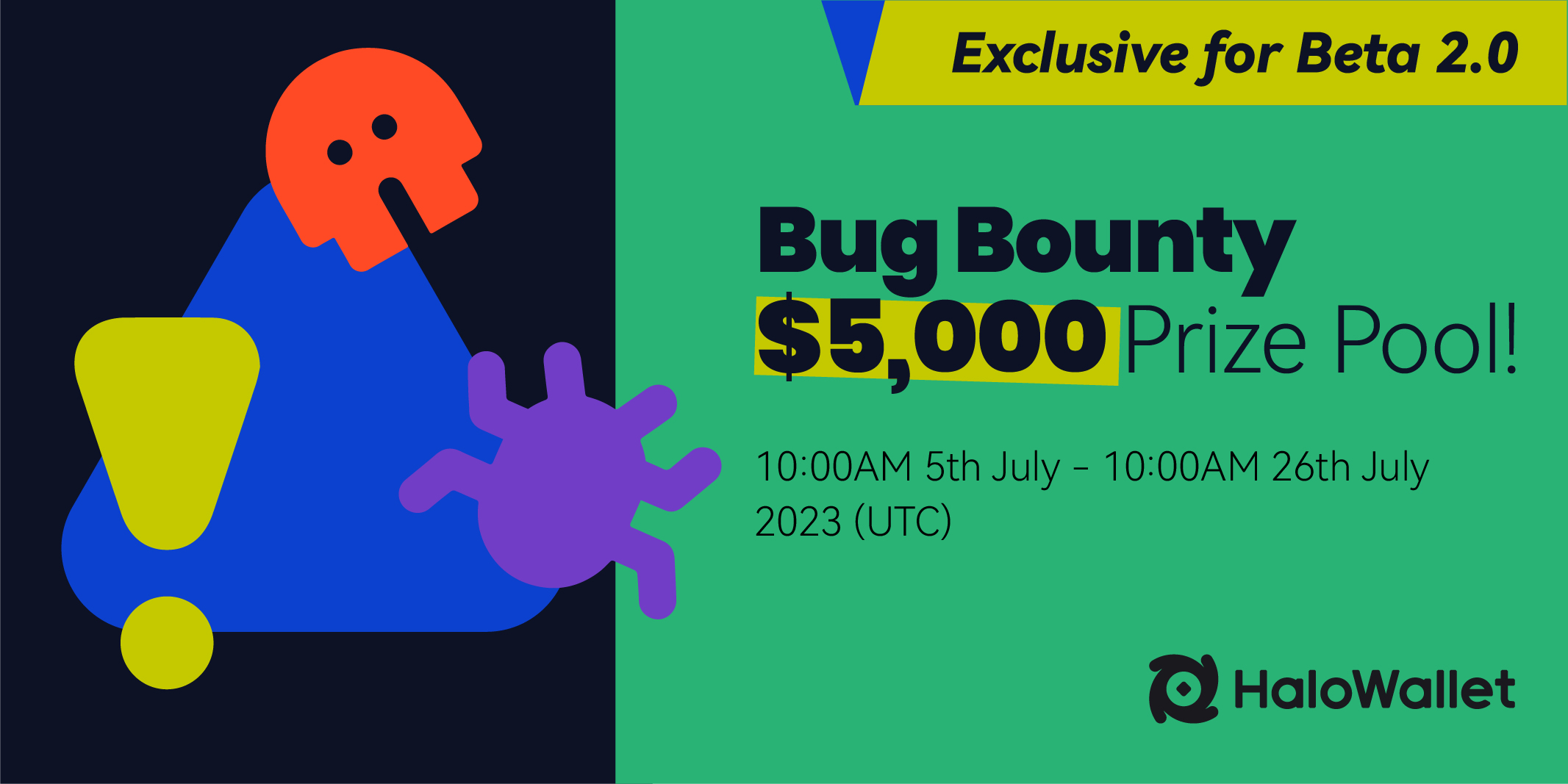 We are delighted to inform you that the Second Beta Test of Halo Wallet is now live!
In an effort to enhance the product experience and gather your valuable feedback, we have organized a bug bounty program. A prize pool of $5,000 is available for users who uncover vulnerabilities (functional, visual, etc.) related to SocialFi features in Halo Wallet. Rewards ranging from $10 to $200USDT will be granted based on the severity of the bugs discovered.
We eagerly anticipate ongoing collaboration with users who assist us in identifying and addressing potential vulnerabilities in the Halo Wallet!
📆Bug Bounty Duration: 10:00AM 5th July - 10:00AM 26th July (3 weeks)
👉How to participate:
Step 1: Verify your eligibility for Halo Wallet beta test 2.0 by visiting this link:

https://halo.social/whitelisted

Step 2: Download the MVP version if you score 3 points and explore the diverse features offered by the Halo Wallet!
Step 3: Fill in this form to submit your feedback
📔Reward Distribution Rules
The top 100 contributors offering the most valuable feedback on SocialFi features will be rewarded with prizes ranging from $10 to $200 USDT!
If you need to submit feedback multiple times, please use the same email address to submit the form. A cumulative number of valid feedback will be involved in the final ranking.
Make sure to submit a detailed description of the vulnerability and corresponding screenshots to be qualified for the rewards.
All rewards will be distributed within 10 working days after the activity.
Halo Wallet reserves all rights to the final explanation of the event.
About Halo Wallet
Halo Wallet is a secure and easy-to-use crypto wallet that supports multi-chain aggregation and aims to provide Web3 users with a more efficient and deep insight into investment opportunities through the Social web. With the leading security technology audited by Hacken, Halo Wallet is a self-custody wallet that users have full control of their assets. Let Web3 users discover the value of projects earlier, monitor their investment portfolios, and make smart decisions. That is where the Halo Wallet comes into play!
Official Channels:
Twitter: https://twitter.com/HaloDotSocial
Telegram: https://t.me/halowalletsocial
Discord: https://discord.com/invite/halowallet
Medium: https://medium.com/@HaloDotSocial