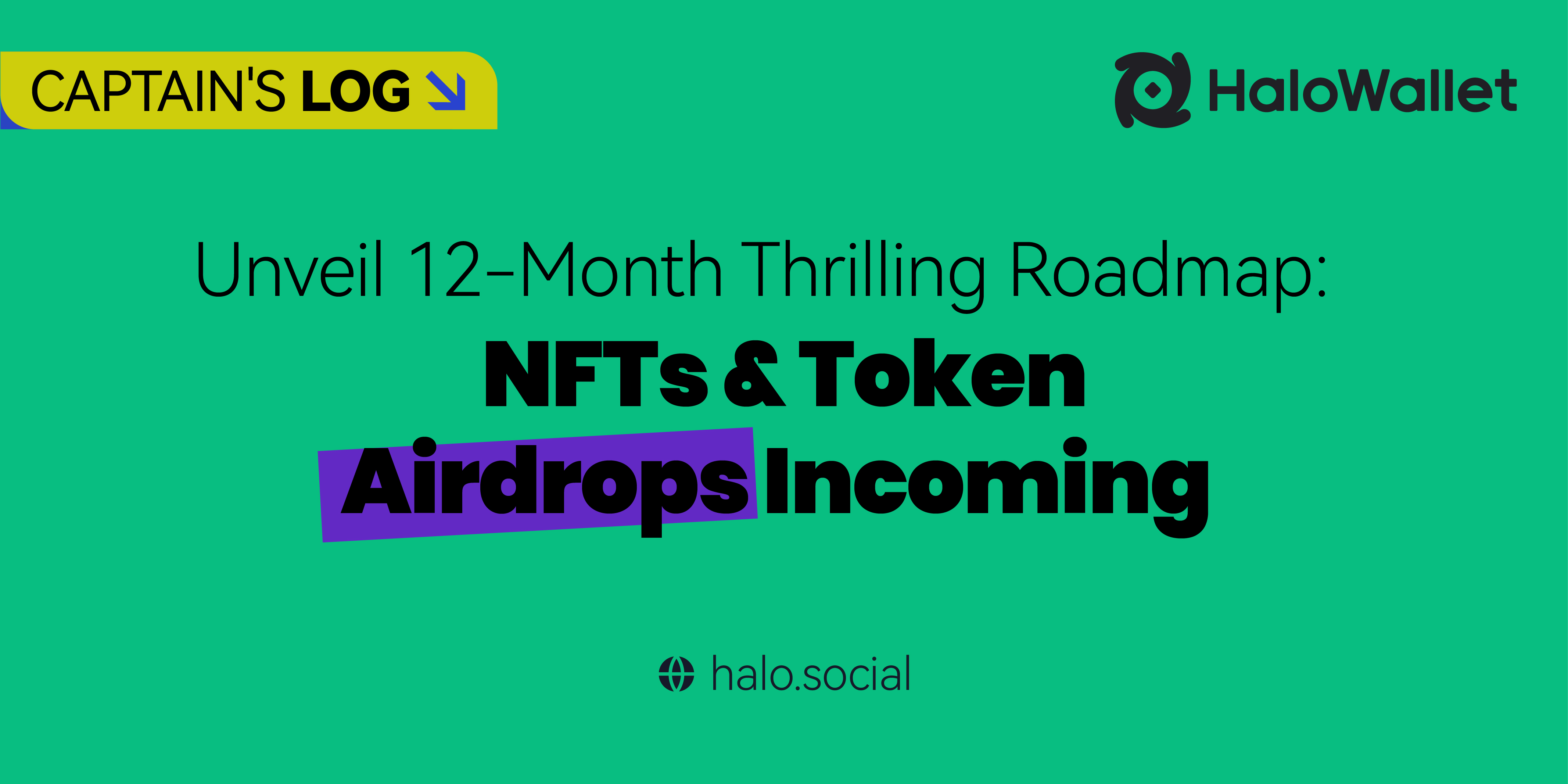 Halo Crew,
I hope this letter finds you well. It's been a while since my last update in July, and I trust you're doing well as always.
We've been working hard on the technical aspects for the new features of SocialFi, as well as the merger plan for the online and beta versions. These updates will soon be reflected in the HaloWallet App. Most importantly, we've finalized a marketing and operational framework, starting from the initial steps of monetization to the official airdrop of our own token.
And the purpose of this letter is to share our three-step process, which will be our focus for the next 12 months.
💎 Let's start with the first NFT collection, which I hinted at in my previous letter. I'm excited to share more details.
This collection will be launched around the time we merge the two app versions, marking the official start of our new SocialFi journey and also initiating the countdown to our token airdrop.
For this stage, we're not expecting a large growth in our user base. Instead, we're looking to find the right partners who are willing to become key leaders in the Halo Ecosystem and help us create the initial social gene by creating, interacting, and sharing high-value content.
With this goal in mind, this NFT collection will be rare but with significant privileges. This will allow our team to work closely with these holders and implement their valuable insights into the Halo content ecosystem and even the Halo Wallet App. When this stage concludes, all the holders will have the highest priority for the second stage, the airdrop stage, and all our exciting plans for the next bull run.
This collection will be limited to 2,100 pieces with no additional issuance. More details will be shared at the official launch.
💎 Next, let's take a look at the second stage.
After a period of accumulation, we aim to have a compact and energetic community. Therefore, the theme of the second stage is GROWTH. 🚀
When we talk about growth strategies, one common approach is to manage high-efficiency methods to gain exposure and traffic, often with a large cost outlay. While this is effective in some cases, it's not suitable for us as it could overwhelm the community and product and may also dilute the value for our members.
So, what's the right growth strategy for Halo Wallet?
We need a growth strategy that aligns with our systematic user maturity model, benefiting both existing users and the community. Experienced members can leverage their influence, guide the community culture, and mentor newcomers. New members will need guidance to develop stronger community leadership.
To facilitate this, we will issue a new NFT collection for the second stage. This collection will be different, with unlimited quality and each piece having a specific grade. Each NFT can be upgraded when the holders contribute enough to reach the threshold of their current grade.
These NFTs will serve as passes to participate in the Halo ecosystem and will be an important metric for the airdrop in the third stage.
All NFTs will be issued according to a predetermined ratio of each grade. Existing users will have priority in inviting friends to participate, as people with similar interests are more likely to form connections, and new users who join us in this way may adapt better to HaloWallet.
💎 Finally, we come to the most exciting topic, which is the AIRDROP. 🪂
Many users have asked if Halo Wallet has an airdrop. The answer is YES! The token economy is a crucial method to monetize social networks and serve as a bond connecting all parties towards a decentralized future.
However, I cannot share much information about this today.
It's a complex issue, and we are still working out the details. But the basic principle is that the more you contribute to the community, the more tokens you will receive. Every transaction, post, and interaction with others are all ways to contribute, and we are currently developing a quantification scheme for these actions. We will release the MVP version of it after the beta merge.
I will share the latest progress in my upcoming letters. Please remember to follow us for updates.
That's pretty much all for today.
Even though we are in a bear market, don't be discouraged. I've had discussions with numerous partners, friends, and investors recently, and we all agree that the Web3 industry is incredibly resilient. With the improvement of technical infrastructure capacity, the application layer is poised for a crazy growth.
Something beyond your imagination is brewing.
Goodbye & Good Luck.
Sincerely @Pioneer_Jeff
About Halo Wallet
Halo Wallet is a leading Web3 social wallet that utilizes its financial capability to monetize the data value of a social network. It aims to be a portal for global users in the SocialFi ecosystem by aggregating wallet's activity across various protocols and turning them into a human friendly social feed. Halo Wallet ensures users have an intuitive interface to manage digital assets, track DeFi portfolios and discover market trends without leaving the app.